We are a royalty free illustration CDs shop that offers high quality illustrations. On the base of our products, which is constantly being extended, we are able to offer you Royalty Free CDs in the conditions, according to which you can immediately decide which type or style of drawing is best fitting with your idea or project.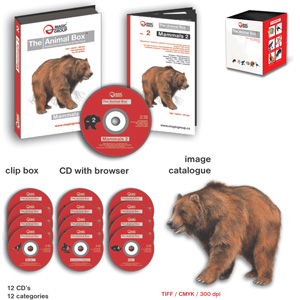 The perfect mix of animal illustrations in just one box. You will get hundreds high-professional, royalty free illustrations that help you get ready for your projects.
12 CDs.
100 illustrations on each CD.
Illustrations have been commissioned by experienced consultants.
All illustrations CMYK, scanned at 300 dpi and print-ready.
Themed discs on subjects including mammals, birds, amphibians, reptiles, fish, invertebrates, domestic animals.
Latin names included.
Price: 2,800 €


CDs in The Animal Box
These CDs are part of CD collection, but they can also be ordered solely if needed.


390 €

390 €

390 €

390 €

390 €

390 €

390 €

390 €

390 €

390 €

390 €

390 €